As I have mentioned, president Olafur Ragnar Grimsson's critics claim that by taking stance on the Icesave issue he's diverting attention from widespread criticism for his previous involvement with discredited business leaders, some of whom are now under investigation for alleged fraud. Below is a photo* from this past. From the beginning, he emphasised that his role in promoting Icelandic businesses abroad. Few would contend with this role, after all head of states and leading politicians mostly do it. But some will feel that Grimsson got a bit to cosy with some of the Icelandic business leaders who have lost their reputation.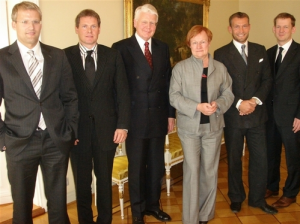 The one person truly out of place on this photo is Finland's president Tarja Halonen to whom these leading lights of Icelandic business life ca 2004-2007 were clearly being presented. Far left is Robert Wessman, who was probably the CEO of Actavis at the time of this meeting. Wessman bought shares in Glitnir for ISK6bn a few days before the bank collapsed. 'Sometimes you gain, sometimes you loose,' he said stoically on tv after this disastrous deal became known. Considering what we now know about how the banks lent their favourite clients to buy shares there might still be something unknown about this deal. Wessman, the only businessman on the photo still living in Iceland, is now embroiled in law suits with his former boss and business partner Bjorgolfur Thor Bjorgolfsson. The cases regard Wessman's departure from Actavis. The two were earlier close enough to co-invest in property deals in Spain that failed, possibly an added source of discontent between the two.
Next to Wessman is Hannes Smarason, apparently ill at ease in his unsharp suit. After working for McKinsey in the US, whereby he gained a lot of credibility, Smarason returned to Iceland in the late '90s to be a CFO at deCode. He has denied that he and deCode's CEO Kari Stefansson were the middlemen when deCode sold shares in the grey market before floating on the Iceland Stock Exchange. SEC filings show that the sale was conducted through a Luxembourg company, Biotek Invest. When Biotek Invest was dissolved by a Panama company it held almost $40m. Smarason later left deCode to join the rising business star of the early '00s, Jon Asgeir Johannesson. They bought into Icelandair, sold the air business in 2004 and started on a shortlived investment spree. By the end of 2007 FL Group had failed and Smarason left the company. Since then, no big stories, except from the past, have been heard of Smarason who lives in London. It's believed that matters related to Smarason are being investigated by the Office of the Special Prosecutor in Iceland. Smarason is also one of the defendants in the Glitnir case in New York that now seems to be about to be reopened after being dismissed last December.
On Halonen's right is the ever photogenic sharp dresser Bjorgolfur Thor Bjorgolfsson. The formerly so fabulously wealthy major shareholder in the two failed banks Landsbanki and Straumur is still, at least on paper, connected to Actavis, the pharmaceutical company that he built up and then took off the market in summer 2007. However, it seems that Deutsche Bank, Actavis main creditor (Landsbanki took part in financing the Actavis deal but the deal was constructed in such a way that the bank was left with nothing, according to Landsbanki's ex-CEO Sigurjon Arnason, when Actavis ran into trouble). The fact that Bjorgolfsson's father, his co-investor in the two banks, was jailed for fraud in the '80s seems to have made Bjorgolfsson determined that money and respect went hand in hand. He still has money but in Iceland there isn't much left of the respect. He runs an Icelandic website to explain his side of the matters. I've been told that he's preparing to write a book, both in Icelandic and English, telling his version of the Icelandic fall (in interviews he has blamed everyone except himself but in the report of the Special Investigative Commission some of those involved in the events in October 2008 have said that at that time Bjorgolfsson lied to them about the state of Landsbanki) but his spokespersons say that though he keeps track of things no book plans are confirmed. Bjorgolfsson has been involved in real estate companies in Denmark where an old friend of his, and co-investor both with Bjorgolfsson and Johannesson, Birgir Bieltvedt lives. Bjorgolfsson lives in London and has an office in Mayfair.
Hreidar Mar Sigurdsson was the CEO of Kaupthing. Sigurdsson now lives in Luxembourg and, together with other ex-Kaupthing employees, runs an investment/consulting company there called Consolium. Sigurdsson was held in custody last year in connection to an ongoing OSP investigation into Kaupthing. Consolium has been very close to Banque Havilland, owned by the Rowland family who are the administrators for Pillar Securitisation, the bad debt part of Kaupthing Luxembourg that the Rowlands bought. These close ties – the Rowlands kept Kaupthing Luxembourg's manager Magnus Gudmundsson until he was remanded to custody like Sigurdsson – have led to speculations about the ties between the Rowlands and Kaupthing's key managers and major shareholders like Exista og and Olafur Olafsson.
Two and a half years after the collapse of the banks, these five business men – and to some extent Grimsson – are still very much defined by the events of 2008 and their questionable success in the short lived once upon a time of an Icelandic business boom.
*I can't credit the photographer since there wasn't any name with the photo but I guess it's an official photo from the office of the Finnish president.
Follow me on Twitter for running updates.
Leave a Reply