After buying Kaupthing Luxembourg, the object of serial searches by the Icelandic Special Prosecutor and now also the UK Serious Fraud Office, David Rowland hasn't lost the appetite for Icelandic banks with a questionable reputation. He, together with the ex-Kaupthing Singer & Friedlander client, Jo Lewis, is buying 10% of the Icelandic bank MP Bank, according to Vidskiptabladid, the Icelandic business newspaper.
MP bank survived the crash but now needs more equity. A group of Icelandic shareholders, led by Skuli Mogensen, earlier CEO of Oz. Oz was an Icelandic dotcom venture in the 90s that a huge number of Icelanders lost money on in a case that was never investigated. According to Vidskiptabladid, the Icelanders have procured 10% from Rowland, Lewis and a third foreign investor who hasn't been named.
According to the leaked Kaupthing loan book, Lewis and Daniel Levy, through their holding company Enic, had a loan facility with KSF of €121.9 million, in a 'reverse repo' arrangement, against a collateral in shares in their trophee asset Tottenham Hotspur, worth only €89m, meaning the loan was only partly covered. A note on the risk read: "Our only formal security is one line of shares which would have to be placed with someone desirous of owning the club as they are not a traditional investment." I.e., the collateral was highly illiquid. Yet, it said that the subjective rating of the collateral was 'good.'
Lewis and Levy, the chairman of the club, used the loan to raise their stake in Tottenham to 84% in 2007, the year of golden deals. It is fair to say that by receiving this loan, Lewis and Levy had firmly placed themselves as clients that KSF wanted to keep happy with good deals, or as it read in the loan book: "Joe Lewis is reputedly extremely wealthy and a target for doing further business with.' I.e. KSF wanted to smooze up to Lewis by offering him a bit of something extra.
From any normal business perspective it beggars belief that Rowland, now teamed up with Lewis, would want to buy into a bank in Iceland. A bank under scrutiny from the regulator where the MP himself, its founder Margeir Petursson a famous chess player, has resigned. Petursson had until last year an image of being whiter than snow in the Icelandic business community. There is now some ash on the snow. Deals between MP bank and Byr, a saving society, are part of charges that the Office of the Special Prosecutor has pressed i.a. against  the former MP CEO. In addition, Rowland and Lewis are buying into a bank in a country with capital restrictions. Rowland, through Havilland, is investing in Belarus. MP operates in Ukraine.
There have been consistent rumours that Rowland bought Kaupthing Luxembourg as a front man for someone else. Rowland has always denied this, saying the bank is his and his alone. These rumours will flare up now that he moves to buy shares in MP bank. Hasn't Rowland had enough of buying into Icelandic banks with questionable reputation? But at least, he will recognise the Special Prosecutor Olafur Hauksson if ever he meets him in the corridors of MP Bank.
Here is the page from the Kaupthing loan book, on the Enic loan (click on it to enlarge):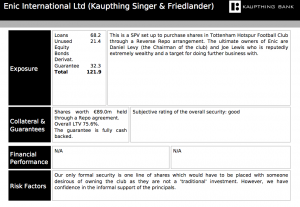 *An update: the third investor is a Canadian tax lawyer, Robert Raich, with no apparent Icelandic connections.
Follow me on Twitter for running updates.
One Response to 'Rowland and Jo Lewis shareholders in MP bank in Iceland'
Leave a Reply