The striking characteristic of the Icelandic banks is that though they were listed companies the banks were run like the private coffers of the principal shareholders. As Sigridur Benediktsdottir, one of the three members of the Investigative Commission, pointed out this morning, shareholders get dividends on the basis of profit. The operation changes fundamentally when people increase their dividends by lending money to themselves – by lending as much as possible the dividend is increased as much as possible. This happened in the Icelandic banks. Clearly, the principal owners completely ignored the interests of small investors.
The Commission concludes that the banks failed because of their rapid growth. In seven years the banks grew 20-fold – growth that was due to poor underwriting, making solvency-related difficulties very likely. The quality of the Icelandic banks loan portfolios eroded successively during this time. One of the Icelandic ways of banking was lending to holding companies with poor assets, often shares in the banks, or even no assets.
After sifting through the banks' exposure the Commission concludes that all the banks had an abnormally easy access to loans in these banks, apparently in their capacity as owners. The banks' largest clients were the banks' principal owners. Was this lending done at arm's length? That doesn't seem to have been the case. The banks defined 'related parties' in an abnormal way thereby giving a misleading picture of the exposures to the major shareholders.
The abnormal relationship to the principal owners is also clear when it comes to the money market funds: their prime investments included securities and deposits connected to the banks' largest owners.
In order to demonstrate the principal shareholders's stronghold on the banks two graphs tell a striking story. The graph below shows Landsbanki's lending to Bjorgolfur Thor Bjorgolfsson, one of the bank's two major shareholders (the other one was his father, with equally gargantuan exposures). Bjorgulfsson also had large exposures in the other two banks. Landsbanki was the bank responsible for the infamous IceSave. In the report, Arni Matthiessen at the time minister of finance claims that all the leading bankers lied to the government just before the collapse – but the worst of the lot, says the minister, was Bjorgolfsson.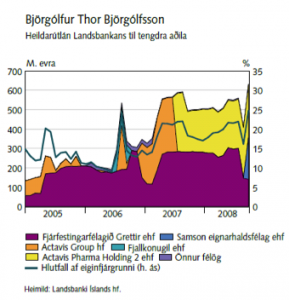 (In m of euros; the names above refer to companies owned by BTB).
Another equally striking graph shows Glitnir's lending to Fons, a holding company owned by Palmi Haraldsson and a constant companion to Baugur, owned by Jon Asgeir Johannesson. What happened in 2007? Fons and Baugur became the principal shareholders of Glitnir – and Glitnir's lending to Fons shot up dramatically. Fons was also a large borrower in the other two banks.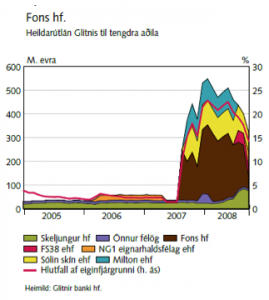 (In m of euros; the names above refer to companies owned by Fons).
Follow me on Twitter for running updates.
Leave a Reply