Part of Glitnir's arguments for the international freezing order against Jon Asgeir Johannesson relates to a €13,6m loan to 101 Chalet, a company owned by Johannesson and Palmadottir, his wife and 'alter ego', to use the phraseology from the Glitnir charges brought in New York against the couple together with five others. An interesting addition to this story is that according to the Glitnir QC Richard Gillis Johannesson claims that his sister, Kristin Johannesdottir who's been a director in many companies related to her brother, signed a guarantee for the loan, without his knowledge.
The report of the Investigative Commission points out that 'innumerable companies' are related to Gaumur, the holding company of the Johannesson's family, with extensive ties to offshore secrecy jurisdictions. 101 Chalet is one of them, owned by Johannesson and his wife. The 101 Chalet loan was a key argument in Glitnir's motivation for the freezing order since it's both shows how intertwined the couple's assets are and how assets were moved between companies and eventually beyond the reach of creditors.
Instead of insisting that the Johannesson companies sold assets and paid up debt during the difficult times of August 2008 Glitnir issued a 13,6m loan to 101 Chalet to buy a chalet in Courchevel. At the time, the owners of 101 Chalet claimed that a loan from a foreign bank was coming their way. Glitnir's management only accepted though to issue a bridge loan for three months and sought to secure its interests with a letter from the chalet-buyers that the chalet would be sold if the other loan hadn't materialised in three months and the Glitnir loan repaid. In addition, Glitnir had collaterals in 101 Chalet and in Piano Holding, a Panama company holding the 101 Heesen yacht (sold by the Kaupthing Luxembourg administrators, Banque Havilland, last year). When the loan wasn't repaid it transpired that the Piano Holding guarantee was worthless from inception because the 101 yacht had been encumbered.
In addition, Glitnir sought a guarantee from Gaumur, signed by Johannesson, his sister and his father.
Three months later, Glitnir had collapsed and no other loan had been secured for the chalet. However, the chalet wasn't sold until more than a year later. During the freezing order case Johannesson admitted that the 101 Chalet loan contract had been breached.
As with so many of the loans to the Icelandic banks' chosen customers the loan to 101 Chalet was passed on to another Baugur company, BG Danmark. Last year, when the chalet was finally sold the proceeds from the sale didn't go to Glitnir but to Palmadottir. Johannesson has now paid ISK2bn to Glitnir but Glitnir notes that the money is partly coming from Palmadottir, not out of Johannesson's assets. Another chalet, previously owned by BG Danmark is amongst the assets of the now bankrupt Baugur in Iceland and 101 Chalet's value is 0 on the list of Johannesson's assets.
An interesting twist in this tale is that in QC Gillis' skeleton statement it says: 'Mr Johannesson sought to argue that the personal guarantee* in his name had been signed by his sister without his authority.' – I leave it to the readers to interpret what this implies.
Johannesson's sister firmly denies having signed the Gaumur guarantee without her brother's authority. Johannesson hasn't been interviewed on this issue. He has however issued a statement** saying that he has never accused his sister of having signed anything without his knowledge. Attached to his statement is a letter from his lawyer Jeremy Courtenay-Stamp.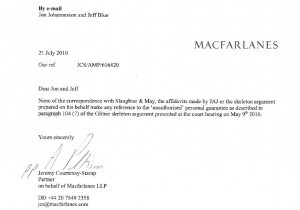 Plenty of conflicting stories here – so there must be more to come…
*The Gaumur guarantee.
** In Icelandic but there are quotes there in English. The letter above is from Johannesson's statement.
Follow me on Twitter for running updates.
Leave a Reply