Walking through 'Hljomskalagardurinn', the little park by the pond in the centre of Reykjavik, earlier this evening the city seemed to be at the heart of Southern Europe: the temperature is around 20 degrees and the sun is still shining now just after 9pm. Every city shows its best side on a sunny summer evening but I don't know any city that so much opens up and spreads out its charm as does Reykjavik on a evening like tonight. Especially because the inhabitants, not always caressed by the elements, show their uninhibited appreciation of their good luck and turn very cheerful. Even the ducks and geese swim merrily in the saturated colours.
.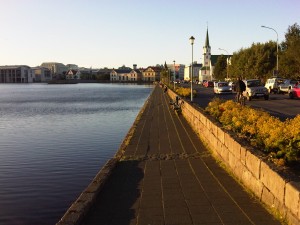 It is a truly magical evening – and the weather has been like this most of the summer. It seems that every summer is just better than the one before or rather, that's what it's like in Southern Iceland. The Northern part seems to have lost its warm summer that everyone in Southern Iceland was envious of. And there is a vibrant atmosphere, with open shops and cafés. On Saturday there is the annual 'culture night.'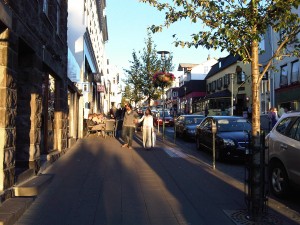 And Bankastraeti, 'Bank Street', could be San Francisco.
At Christmas 2006 I sat at this same café, b5 and heard, on my right, young men in black planning to buy an airline. An identical group, to my left, were planning to buy a bank. Tonight, one of these breathtakingly good-looking Icelandic girls passed me just above the café, talking to a friend. The sentence I caught was: 'Money isn't everything.'
Follow me on Twitter for running updates.
Leave a Reply