The summer hiatus on Icelog wasn't really planned, summer just flew away but there is still this and that newsworthy. The Office of the Special Prosecutor is still mulling over alleged fraud cases. No doubt the successful sentencing of the Byr managers will make it easier to continue. Compared to what's happening in other countries in terms of bringing bankers to court in cases where banks pay fine for breaching the law Iceland and the OSP are doing pretty well. But Icelanders are still feeling rather impatient, would like to see more happening now that it's almost four years since the banks collapsed.
The Icelandic economy is doing remarkably well, again compared to many other countries. The budget was presented today. Expected growth of GDP is 2.7%, inflation at 3.9% and unemployment will be down to 5.3%, from ca 8% this year. The current account deficit is expected to be 2.1% of GDP. – The weak side of the budget is the development in the eurozone. If the situation there deteriorate that could have adverse effect in Iceland.
On Tue. Sept. 18 there is an oral hearing in the EFTA Surveillance Authority case against Iceland over its breach of the EU Deposit Guarantee Directive and discrimination against deposit-holders in Icelandic bank branches abroad, heard at the EFTA Court in Luxembourg. This case might have some interesting ramification for EU countries, struggling to keep their banks afloat. (See and earlier Icelog on this case here; info from ESA on this case here.)
The outcome of this case, expected in ca two months, is a major factor of instability in Iceland in the coming year. A ruling against Iceland, especially on the discrimination issue, might burden Iceland with heavy financial liabilities. But Icelanders are always prone to believe in their luck – and perhaps signora Fortuna will side with them in this case though greater realist might be slightly more pessimistic as to the outcome in this case.
The first real storm has just swept over Iceland, burying parts of the country in snow, killing sheep and disrupting traffic and electricity. The weather has died down now but it was a reminder that summer – which in Iceland was unusually good – is now definitely over. Then winter isn't far away. Autumn is a notoriously short and fleeting season in Iceland, usually no more than a few days. The good summer meant that blueberries were everywhere and the lucky ones will have some in the freezer to see them through winter, not to forget the unbeatable jam made of Icelandic blueberries.
The blueberries on the photo below grew on Snæfellsnes – and they tasted as lovely as they look.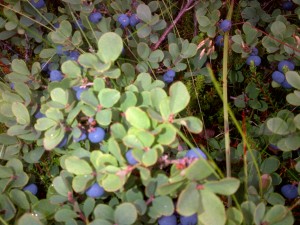 Follow me on Twitter for running updates.
One Response to 'A sign of life on Icelog'
Leave a Reply