I had the opportunity today, at 7pm, to fly in a helicopter up to Eyjafjallajokull to visit the crater that's cancelling flights all over Europe. The trip to the crater took about 10 mins. As we came flying up the volcano we saw directly into the crater, the ash, fumes and steam bulging up.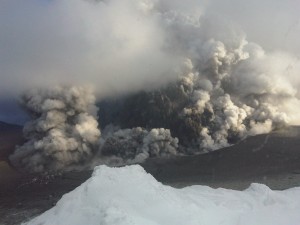 Just in front there was this pristine white tip of snow.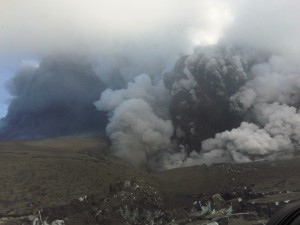 Close up, there was ash over the glacier, everything black and grey except the blue sky beyond.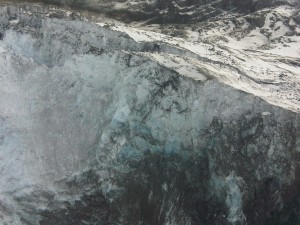 Flying back, we glided down the glacier, following a crevice formed by floods of warm water that melted as the eruption started. The water ran under the glacier causing parts of it to collapse, forming crevices as if the ice cap had been torn apart.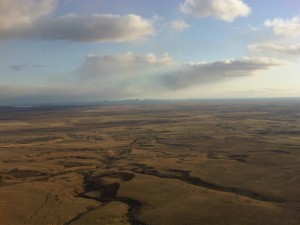 When we came down to the flatland the Vestmanna Islands seemed only a stone's throw away, resting on the ocean under the tip of the ash spreading out over the Atlantic. Heimaey, the biggest island, erupted in 1973 – the island was evacuated over night and no one lived there for the best part of the year. Those who returned say that live wasn't the same afterwards. Farthest to the right is Surtsey, formed on the ocean in an eruption 1963-67 that began underwater. As you can see the surface of the earth is cut and torn by rivers and floods.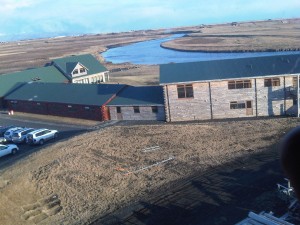 Just before landing by Hotel Ranga with the plume out by the horizon.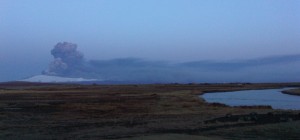 This is the view I had with my dinner at Hotel Ranga, at around 8.50pm. Earlier, the volcano drew a deep breath with only white steam rising up from the crater. At this time, the lightening that plays around in the steam all the time was visible from time to time. – I sent the photo to someone who is in Germany and who had planned to fly back to London Thursday evening. He remarked that this eruption certainly didn't look like forces of nature strong enough to bring halt all flights in Europe.
And that's true. Here, so close to the volcano, life goes on as if nothing had happened. So far, it's not a catastrophe – but the outlooks is different if this goes on for long. It will make life difficult i.a. for the farmers living right under the plume where the ash falls. The earth there is covered with what looks like pale grey snow.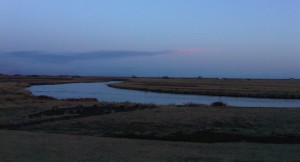 And this is the tip of the plume lit up by the setting sun – like a tongue stuck out at Europe, the river Ranga floating by. A serene evening under the volcano.
Follow me on Twitter for running updates.
3 Responses to 'Eyjafjallajokull: blinking into the crater'
Leave a Reply