Little did I know some weeks ago when I booked a room at Hotel Ranga that I would have an eruption outside my window. The hotel is ca 20 km from Eyjafjallajokull, the glacier now erupting and putting Europe to a standstill.
I left Reykjavik this morning. I didn't realise it at the time but the top of some clouds, visible from Reykjavik, were indeed the top of the plume. Already on the heath East of Reykjavik the glacier and the plume hovering over it were visible. Below are photos that I took as I approached the volcano.
Eyjafjallajokull seen from Selfoss, ca 50 km from the volcano.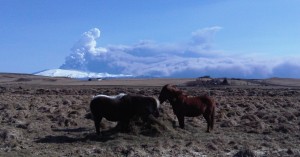 The horses didn't seem to mind the volcano ca 20 km away. It's a cold day today but the air clear and the view spectacular. The volcano is ca 1500m high, the steam and ash around 8km.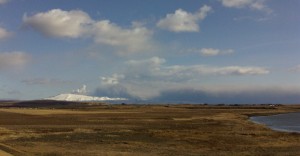 This is the view from the hotel. Around 4pm the eruption stopped…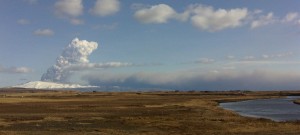 … but only while the volcano took a deep breath: ca 20 min later it was spewing ash and steam again. The dark blanket to the right is the plume of ash that drifts over the sand South of the glacier and then out over the Atlantic, over to Scotland, England and down the continent.
This is only a small eruption on Icelandic scale – and yet it's powerful enough to halt the life of millions of people all over the world. A friend in Paris was going to a concert tonight but the concert was cancelled because the orchestra from Lisbon hadn't been able to fly to Paris. Another friend is stuck in Cincinnati, can't get back to England. But here, close up to the volcano all is peaceful, the view is spectacular and it's as if nothing had happened except nature following its course.
The word going around in Iceland now is that the last wish of the Icelandic Financial System was for its ashes to be spread out over Europe…
Follow me on Twitter for running updates.
4 Responses to 'Under the volcano – the source of the ash'
Leave a Reply