As a break from Icesave and the crisis talk, take a look – or rather enjoy a whiff – of Andrea Maack perfumes. Andrea is an Icelandic artist who a few years ago took a fancy to scent and decided to use proper perfume in her installations. She joined up with a French perfumeur and has now made three real perfumes – Sharp, Smart and Craft – that are sold by leading perfume stores all over the world, i.a. Lucky Scent in Los Angeles and Les Senteurs in London.
Andrea now works on the perfumes with her husband and with Inga, who apart from being an old friend of Andrea, is an interior designer who takes care of the design of the bottles, the package and the visual side of the scents.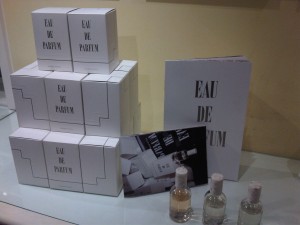 Judging from the reviews and buzz around Andrea Maack perfumes, it will be interesting to follow Andrea's scents.
Follow me on Twitter for running updates.
4 Responses to 'Scent of success'
Leave a Reply