The Office of the Special Prosecutor is indicting Kaupthing's CEO Hreidar Mar Sigurdsson and Kaupthing's chairman Sigurdur Einarsson for a breach of fiduciary duty and market manipulation in giving loans to companies related to the so-called 'al Thani' case; indicting Kaupthing Luxembourg manager Magnus Gudmundsson for his participation in these loans and Kaupthing's second largest shareholder Olafur Olafsson for his participation. In addition, Olafsson faces charges of money laundering because he accepted loans to his companies without adequate guarantees.
In September 2008 Kaupthing made much fanfare of the fact that Sheikh Mohammed bin Khalifa al Thani, a Qatari investor related to the Qatar ruler al Thani, bought 5.1% of Kaupthing's shares. The 5.1% stake in the bank made al Thani Kaupthing's third largest shareholder, after Olafsson who owned 9.88%. This number, 5.1%, was crucial, meaning that the investment had to be flagged – and would certainly be noticed. Einarsson, Sigurdsson and Olafsson all appeared in the Icelandic media, underlining that the Qatari investment showed the bank's strong position and promising outlook.
What these three didn't tell was that Kaupthing lent the al Thani the money to buy the stake in Kaupthing – a well known pattern, not only in Kaupthing but in the other Icelandic banks as well. A few months later, stories appeared in the Icelandic media indicating that al Thani wasn't risking his own money. More was told in SIC report – and now the OSP writ tells quite a story. A story the four indicted and their defenders will certainly try to quash.
The story told in the OSP writ is that on Sept. 19 Sigurdsson organised that a loan of $50m was paid into a Kaupthing account belonging to Brooks Trading, a BVI company owned by another BVI company, Mink Trading where al Thani was the beneficial owner. Sigurdsson bypassed the bank's credit committee and was, according to the bank's own rules, not allowed to authorise on his own a loan of this size. The loan to Brooks was without guarantees and collaterals. This loan, first due on Sept. 29 but referred to Oct. 14 and then to Nov. 11 2008, has never been repaid. – Gudmundsson's role was to negotiate and organise the payment to Brooks. According to the charges he should have been aware that Sigurdsson was going beyond his authority by instigating the loan.
But this was only the beginning. The next step, on Sept. 29, was to organise two loans, each to the amount of ISK12.8bn, in total ISK25.6bn (now €157m) to two BVI companies, both with accounts in Kaupthing: Serval Trading, belonging to al Thani and Gerland Assets, belonging to Olafsson. These two loans were then channelled into the account of a Cyprus company, Choice Stay. Its beneficial owners are Olafsson, al Thani and another al Thani, Sheikh Sultan al Thani, said to be an investment advisor to al Thani the Kaupthing investor. From Choice Stay the money went into another Kaupthing account, held by Q Iceland Finance, owned by Q Iceland Holding where al Thani was the beneficial owner. It was Q Iceland Finance that then bought the Kaupthing shares. As with the Brooks loan, none have been repaid.
These loans were without appropriate guarantees and collaterals – except for Serval, which had al Thani's personal guarantee. After noon Wed. Oct. 8, when Kaupthing had collapsed, the US dollar loan to Brooks was sent express to Iceland where it was converted into kronur at the rate of ISK256 to the dollar (twice the going rate in Iceland that day) and used to repay Serval's loan to Kaupthing – in order to free the Sheik from his personal guarantee.
This is the scheme, as I understand it from the OSP writ. And all this was happening as banks were practically not lending. There was a severe draught in the international financial system.
The Brooks loan is interesting. It can be seen as an "insurance" for al Thani that no matter what, he would never lose a penny. When things did go sour – the bank collapsed and all the rest of it – this money was used to unburden him of his personal guarantee. Otherwise, it would have been money in his pocket. It's also interesting that the loan was paid out to Brooks on Sept. 19, his investment was announced on Sept. 22 – but the trade wasn't settled until Sept. 29. This means that his "guarantee" was secured before he took the first steps to become a Kaupthing investor.
Apparently, Kaupting's credit committee was in total oblivion of all this. The CC was presented with another version of reality. Below is an excerpt from the minutes regarding the al Thani loan, discussed when the Board of Kaupthing Credit Committee met in London Sept. 24. 2008 (click on the image to enlarge).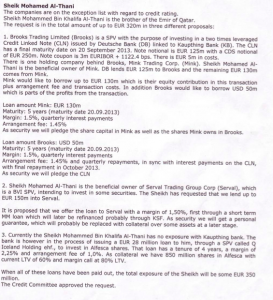 Three things to note here: that the $50m loan "is parts of the profits from the transaction." Second, that al Thani borrowed €28m to invest in Alfesca. It so happens that Alfesca belonged to Olafsson. Al Thani's acquisition in Alfesca was indeed announced in early summer of 2008 and should, according to rules, have been settled within three months. At the end of Oct. 2008 it was announced that due to the market upheaval in Iceland al Thani was withdrawing his Alfesca investment. Thirdly, it's interesting to note that Deutsche bank did lend into this scheme – as it also did into another remarkable Kaupthing scheme where the bank lent money to Olafsson and others for CDS trades, to lower the bank's spread; yet another untold story.
According to the OSP writ, the covenants of the al Thani loans differed from what the CC was told. It's also interesting to note that the $50m loan to al Thani's company was paid out on Sept. 19, five days before the CC meeting. This fact doesn't seem to have been made clear to the CC.
The OSP writ also makes it clear that any eventual profits from the investment would have gone to Choice Stay, owned by Olafsson and the two al Thanis.
Why did al Thani pop up in September 2008? It seems that he was a friend of Olafsson who has is said to have extensive connection in al Thani's part of world. Olafsson's Middle East connection are said to go back to the '90s when he had to look abroad to finance some of his Icelandic ventures. London is the place to cultivate Middle East connections and that's also where Olafsson has been living until recently. It is interesting to note that the Financial Times reports on the indictments without mentioning the name of Sheikh al Thani.
The four indicted Icelanders are all living abroad. Sigurdur Einarsson lives in London and it's not known what he has been doing since Kaupthing collapsed. Hreidar Mar Sigurdsson lives in Luxembourg where he, together with other former Kaupthing managers, runs a company called Consolium. His wife runs a catering company and a hotel in Iceland.
Magnus Gudmundsson also lives in Luxembourg. David Rowland kept him as a manager after buying Kaupthing Luxembourg, now Banque Havilland, but Rowland fired Gudmundsson after Gudmundsson was imprisoned in Iceland for a few days, related to the OSP investigation. In the Icelandic Public Records it's said that Olafsson lives in the UK but he has now been living in Lausanne for about two years. In Iceland, he has a low profile but is most noted in horse breeding circles, a popular hobby in Iceland. He breeds horses at his Snaefellsnes farm and owns a number of prize-winning horses.
Following the indictment, Olafsson and Sigurdsson have stated that they haven't done anything wrong and that the al Thani Kaupthing investment was a genuine deal. The case could come up in the District Course in the coming months. But perhaps this isn't all: it's likely that there will be further indictment against these four on other questionable issues related to Kaupthing.
*The OSP indictment, in Icelandic.
**Does it matter that the four indicted are all living abroad? When I made an inquiry at the Ministry of Justice in Iceland some time ago whether Icelanders, living abroad but indicted in Iceland, could seek shelter in any country in Europe by refusing to return to Iceland I was told they couldn't. If an Icelandic citizen is indicted in Iceland and refuses to return, extradition rules will apply. In this case, Iceland would be seeking to have its own citizens extradited and such a request would be met. – It has been noted in Iceland how many of those seen to be involved in the collapse of the banks now live abroad. It can hardly be because they intend to avoid being brought to court – they would have to go farther. Ia it's more likely they want to avoid unwanted attention. For those with offshore funds it might be easier to access them outside of Iceland rather than in a country fenced off by capital controls.
Follow me on Twitter for running updates.
16 Responses to 'The al Thani story behind the Kaupthing indictment (updated)'
Leave a Reply