Is Iksil betting on the JP Morgan CDS spread? Well, at least JP Morgan's CDS looks enviously better than the spread of the other Three Big banks. Their graphs separated late last summer.
Earlier, I toyed with the idea that JP Morgan's Bruno Iksil might be making these humongous bets to lower JPM's CDS spreads. Here is some more data – comparing JP Morgan's CDS with that of the three other big banks: Bank of America, Morgan Stanley and Goldman Sachs. Let's look at the (illuminating?) graph: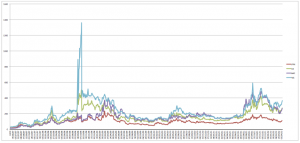 It shows that before the enormous fluctuations in autumn 2008 the four banks had more or less been on the same road. Following the great quakes of autumn 2008, JP Morgan has slowly slowly separated itself from the other three. From last summer the three have been hovering together, ever rising and/or fluctuating more wildly than JP Morgan. True, this doesn't prove anything – but it's intriguing.
JP Morgan might have been seen to have more prudent – though recent CFTC fines of $20m and various other things don't seem to support that theory – and/or it might have been more clever at managing perceptions. Or, just possibly, it might have done like Kaupthing did, on Deutsche Bank's advise, and made some clever trades to influence its CDS. Some question marks hanging in the spring air.
Follow me on Twitter for running updates.
Leave a Reply