Sounds like a crazy idea? Kaupthing, advised by Deutsche Bank, organised trades in 2008 to lower its own CDS. Deutsche co-invested in the scheme.
JP Morgan's trader Bruno Iksil is the latest banker to gain unwanted fame for trading astronomical sums. He's now even famous enough to have nicknames – the London Whale or Voldemort, after the Harry Potter villain. Iksil seems to have been betting investing in corporate CDS, ie Markit CDX IG (Investment Grade) 9 credit index, an index of investment grade corporate CDS, based on 121 (previously 125) big US corporations, financial and others.
Iksil works in the bank's chief investment office, which manages and hedges "the firm's foreign-exchange, interestrate and other structural risks," according to the bank's spokesman, focusing on long-term "structural assets and liabilities." Iksil has placed such hefty bets, guessed to have reached $100bn, that he seems to be moving the index and that's been irritating some hedge funds that are affected.
Trading in that index surged 61 percent the past three months, according to data from Depository Trust & Clearing Corp.
The net amount of wagers on the index, which is tied to the creditworthiness of companies such as Wal-Mart Stores Inc. and now-junk-rated bond insurer MBIA Insurance Corp., soared to almost $145 billion at the end of March from $90 billion three months earlier, according to DTCC, which runs a central registry for credit-default swaps and reports weekly aggregate volumes.
Perhaps the hedgies have been muttering to Bloomberg, first out with the story April 5, just because Iksil is affecting their positions. More pondering, info and graphs re Iksil's trades on the wonderfully informative FT Alphaville. And there is speculation if this type of trades will become part of financial history when the Volcker rules come to rule, in July.
Iksil seems to be doing all of this not as a rogue trader but with the blessing from JP Morgan's commanding heights. Maybe this is a clever long-time hedge. Perhaps perhaps… At least, the management doesn't seem to mind Iksil risking/investing $100bn moving the market.
But what market are JP Morgan's commanding heights glad he is moving? Just the index? Or might it be JP Morgan's own CDS? Perhaps this is a completely freakish development but JP Morgan's CDS was painfully high at the end of last year, almost as high as in autumn 2008, when all financial CDS shot up: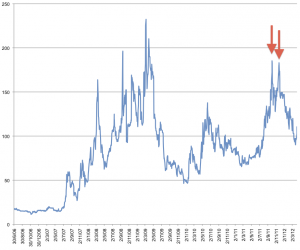 The most recent peaks, indicated by the arrows, are Oct. 4 and Nov. 25 2011.
From the beginning of this year the JP Morgan CDS has been steadily falling, as the graph shows. Interestingly, it has fallen in the last three months, when the trades in the CDS index has surged, apparently due to Iksil's diligence. As pointed out earlier: possible just a freak development. Other forces than Voldemort's might certainly be at large.
But can anyone be so hubristic/daring/foolhardy/foolish to manually influence its own CDS? Well, the know-how to influence one's own CDS has been out there for a while. In the summer of 2008 Kaupthing was suffering from murderously high CDS – the management felt it was all horribly unjust since the bank was, according to the key figures, doing incredibly well.
Kaupthing seems to have aired their concerns with Deutsche Bank, which came up with a brilliant solution: companies should be created to buy CDS on Kaupthing. Deutshce seems to have thought it was a brilliantly viable plan – it even invested in it. Kaupthing implemented the idea – not via its prop trading, a la JP Morgan, but by getting favoured clients (some of whom the bank was lending heavily to invest in Kaupthing shares so as to keep the share price from crashing) to lend their names as owners of companies, which Kaupthing and Deutshce lent into – and then these companies did the trades. Did it help? Well, for whatever reason Kaupthing's CDS did move… downwards.*
The interesting tail to both to the Kaupthing and Iksil trades would be to know who is on the other end. In Kaupthing's case we don't know but whoever it was did very very well.
Kaupthing did meet its end in October 2008 – bankrupt, as happens when the wrong decisions are taken over some time. JP Morgan can happily bet in whatever crazy way. Its management has tried and tested the ground – so far, a bank like JP Morgan won't have to face the results of bad/insane decisions and hubris. Will banks be able to bank on that forever?
*Deutsche's plan is outlined in the SIC report, chapter 7.3.6.3 (only in Icelandic).: Deutsche put up a loan of €125m and harvested handsomely: it got a fee of €5m for the package. In June 2010 Reuters reported that the Serious Fraud Office was investigating this scheme but nothing has been heard of it since. More here from Icelog on the scheme and those involved in it, ia Kevin Stanford and Karen Millen.
Follow me on Twitter for running updates.
4 Responses to 'Could Bruno Iksil's $100bn bet be related to JP Morgan's own CDS?'
Leave a Reply