The new year, 2015, will be a "fun year" a foreign observer of Icelandic politics and economics mentioned to me – and he might well be right. It is just not clear yet for whom it will be fun. Sigmundur Davíð Gunnlaugsson mentioned future action regarding capital controls in his New Year's address (only in Icelandic) in the first part of the new year.
Gunnlaugsson pointed out that although much has been achieved, there is still capital controls in Iceland. "The so-called estates of the collapsed banks, which have already operated longer than is preferable, are the greatest hindrance in lifting capital controls. In the beginning the estates were not taxed although they are in most respect run like companies. But with the estates now being taxed the financial scope, unavoidable part of lifting the controls, is now finally beginning to come into being. It is necessary that these companies contribute their due to society. In many foreign countries, for example in the US, financial companies, which in most cases were kept going with access to the state coffers, have been made to pay sky-high fines in addition to repaying loans to make up the damage they had caused societies."
Gunnlaugsson added that after preparatory work in evaluating the aftermath of the financial shock the government is now well-placed to take important action early in the new year. "The Icelandic nation has already shouldered all the cost it can be expected to because of the international financial shock – cost that could easily have been much higher and even unbearable if Icelanders had not guarded its right (hint: Icesave)." – I will leave it to the reader to try to match these words to reality, i.a. tax on estates in general and the relations of fines paid by banks and damages done.
Gunnlaugsson has since said in Icelandic media that something could happen already in January.
It remains to be seen. As earlier, my feeling is that the two coalition leaders, Gunnlaugsson and Bjarni Benediktsson minister of finance, have not yet reached an agreement as to how to proceed. Until that happens the really fateful steps towards lifting the capital controls will not be taken.
Whatever happens, Icelanders celebrated New Year as is their custom – with a glorious fireworks show, which culminated at midnight, as seen below. The fun has already been tested, skál and happy merry New Year!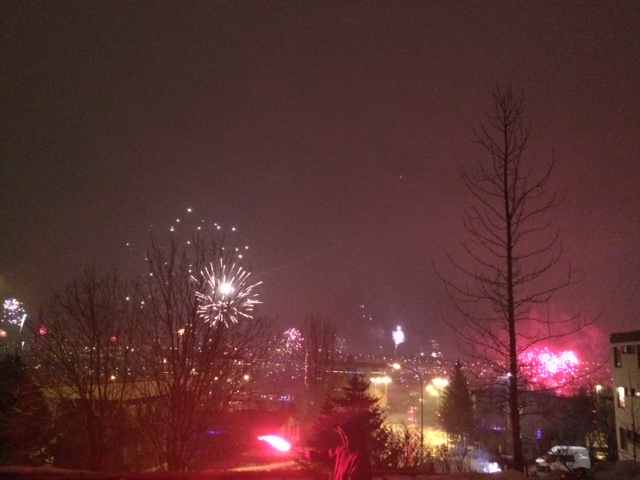 Follow me on Twitter for running updates.
3 Responses to 'Happy merry New Year!'
Leave a Reply